Kayak Fishing Classes & Trips

California Canoe & Kayak offers classes specifically for kayaker using sit on top kayak to fish. Our classes are taught by highly trained certified ACA instructors. The tools you will learn in the classes will give you invaluable skills to be both efficient and safe on the water as kayakers.
---
Surf Zone Class for Kayak Anglers



If you want to fish on the open ocean with a sit on top fishing kayak, this class is a must! This class will focus on how to read the surf, how to handle breaking waves, and how to launch and land in the surf zone safely. Launching and landing, bracing in breaking waves, and understanding wave dynamics are the fundamental building blocks for sit on top kayak surfing and paddling in the ocean. Our site is ideal, close to Surfers' Beach at Half Moon Bay.
Minimum Enrollment: Private Lessons Only
Cost: Instruction only. Gear rental available at a discounted rate. We now have Drysuit for rent during the class at a reduced rate

| | |
| --- | --- |
| # of Student | Rates |
| 1 | $249.00 |
| 2 | $149.00/person |
| 3+ | $129.00/person |
| Max | 4:1 |
Typical Time: 9:00 AM - 4:00 PM
Location: Main location - Miramar Beach, Half Moon Bay 
Private class available: kayak and gear included in a private class.  Please, contact 510 893-7833 ext. 1004 or classes@calkayak.com for more information.
---
Sit-On-Top Kayak Rescue Clinic
In this class, you will learn, practice and refine different rescue and re-entry techniques for Sit-On-Top Kayak. These techniques are necessary for safe paddling on any body of water where swimming to shore is not an option. You will be getting wet in this class! Participants will learn and review both solo and assisted rescues'. You can experiment with various options for these rescues to find your 'Go To' method and have fun learning! You are welcome to bring your own kayak to practice with.
Cost: $89.00 (Minimum Enrollment: 2; Maximum Enrollment: 10 - with 2 instructors)
Duration of class: 9:00 AM to 1:00 PM
Location: Oakland, Lake Natoma, or a Private Class
Prerequisite: L1: Kayak Basics class or the desire to paddle! The minimum age for this class is 14 years; children under 18 years must be accompanied by a parent or legal guardian.  
---
Hobie FirstCast Program



Introducing the Hobie Kayak First Cast kayak fishing trip series brought to you by California Canoe & Kayak. First cast, first kayak fishing experience, (first fish?). California Canoe & Kayak (CCK) and Hobie Cat® Company want to create new fishing moments for anglers of all ages and skill levels in the new Hobie® First Cast program. Don't have a kayak? No problem! California Canoe & Kayak will provide each participant with a Hobie Mirage® kayak and an experienced kayak fishing guide to get you jumpstart into kayak fishing. The best part of fishing on a Hobie Mirage? Your hands are free to tend to your line. Hobie's patented MirageDrive® system allows you to pedal your kayak instead of paddling it. If you have ever thought about fishing, crabbing, or diving from a kayak this is a fantastic opportunity to learn the basics from CCK's Pro Staff Kayak Fishing Team.
Saturday, March 23rd

 

Seeking Striper

 

Cost:

$200.00 for kayak and guide service only; Own Hobie Mirage Drive Kayaks & Gear Discount Available.

Additional $30 fee if you need us to provide fishing gear

Enrollment: Minimum 2, (4:1 ratio)

Typical Event Time:

7:00 AM - 1:00 PM Start and ending times will vary depending on fishing reports. Guides will contact you within 48 hours of the trip,

Time on the water: Approximately 4-5 hours, don't forget to bring snacks and lunch.

Location:

Prerequisites:

No previous kayaking of fishing experience necessary but our L1 Kayak QuickStart class (or equivalent program) is recommended. The minimum age for Hobie First Cast is 14 years; children under 18 must be accompanied by a parent or legal guardian.
 
Participant 16 years and older must have current year fishing license. Day license can be purchased online here.
 
---
Private Guided Fishing Trips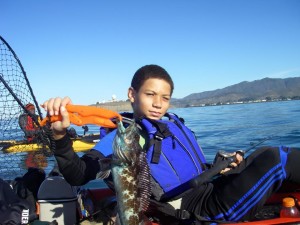 We offer freshwater and saltwater fishing trip using Hobie Mirage Drive kayak. Allow our professional guide services tailor to your style and fit your personal schedule. California Canoe & Kayak's Fishing Team are committed to providing the best possible guided kayak fishing program for our customers. Maybe you have yet to catch your first trout, or are an experienced angler looking to try fishing from a kayak in the ocean; maybe you want to learn to target a new species or perhaps you are new to the area and looking to get on the bite fast! CCK can help!
Each of our expert guides is licensed with the Department of Fish & Game and fully insured. Whether you are looking to fish a Sierra Lake, River, Delta region, Half Moon Bay, or the Northern California coast we have guides that will teach you everything you need to know!                               
Fishing rods and tackle are available for rent at $35/day from our guides. We encourage you to bring your own kayak and fishing gear. All kayak fishing trips are based on individual needs. Please contact us to arrange your next custom kayak fishing adventure at classes@calkayak.com.
| | |
| --- | --- |
| Guide Fishing Rate |   |
| Saltwater: | Starting at $179/person |
|   |   |
| Freshwater: | Starting at$129/person |
|   |   |
Participant 16 years and older must have current valid year fishing license. Day license can be purchased online here.