Store Staff
Keith Miller
President
Certifications: Red Cross CPR & First Aid, former ACA multicraft trainer
Keith is CCK's fearless leader and at the helm of the operations team. He is an avid paddler and devoted instructor. On a typical day, you can find Keith in the Oakland store always willing and ready to help answer questions about paddling and selecting the right gear for your favorite paddling sport. Thursday night, he enjoys teaching kayak students how to roll and guiding others as they master these important safety skills.
Lately you will find Keith running the outpost shop on the South Fork America and taking beginners down the river. Back where is love of paddling began many, many years ago.
---
 Tammy Borichevsky
VP of Operations who loves to paddle
Tammy is at the heart and soul of the business. As a local business owner, Tammy is dedicated to our mission as a paddlesports company, connected to our community and environmental efforts and works tirelessly to ensure everything runs as smooth as possible behind the scenes! Her paddling endeavors started in white water rafting before her adventures led her to sea kayaking and now when she can break away for a paddle, she hops on her SUP and takes it out for a quick trip in the Oakland Estuary. Tammy also has a flare for cooking and enjoys cooking and baking.
---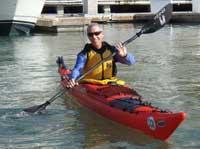 JT Whittaker
General Manager and avid Paddler

 JT began kayaking in 1988 when he bought his first kayak so he could use it for camping in the Sierras. Never 
did he know that original purchase would turn into a career and lifestyle. He started working for California Canoe & Kayak in 1995. With two brief departures to other venues JT always seemed to find his way back to CCK. He can easily remember his first experience on the water and enjoys watching others start and grow with the sport. Nothing brings him more pleasure than passing on what he has learned over the years to others. JT raced citizen class for numerous years and enjoys the fitness aspect of kayaking. He likes long distance paddling but is content with a short paddle with anyone who is starting out and just wants to get on the water. These days, he paddles mostly for fitness and peace of mind the water brings him. Outside of work, he volunteers his time with the US Olympic Committee in Puerto Rico, and the United States. He has also volunteered with USA Canoe & Kayak working on the Sprint Nationals in 1993 and volunteered with the Lanier Canoe & Kayak club hosting the 2004 World Sprint Championships with 74 countries participating. JT hopes to see you in our store someday or on the water.
---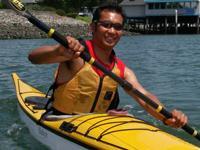 Sou Saephan
Program Director, Kayak Instructor, Retail Sales Specialist
Sou has been kayaking for 20 years. He started his kayaking career with CCK working on the rental dock and in retail. He has followed the natural progression toward becoming an instructor and has now been teaching for over 10+ years. Some of the classes he teaches at CCK are Kayaking Basics, Beginning Sea Kayak, and Sea Kayaking II. Sou's longest trip was a solo 300-mile paddle from Redding to Oakland, down the Sacramento River, although his favorite place to kayak is the Elkhorn Slough at Monterey Bay. Out of all the paddling gear, his favorite is his Carbon Paddle!