California Canoe & Kayak Fishing Team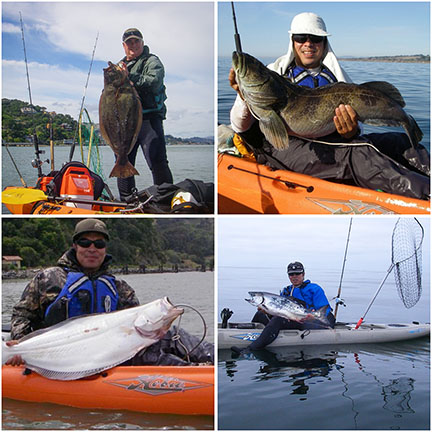 California Canoe & Kayak is your premier kayak fishing retailer in Northern California. We have Hobie, Jackson, Wilderness Systems & FeelFree fishing kayaks available to demo and buy. We are represented on the water by a professional team of kayak anglers who love nothing more than to share their passion with our customers.  We are proud that our team members belong to both the Hobie Fishing Team.

See what the team are up to and to 'Ask a Pro' check out our Fishing Team Facebook page 
Ariel Cuna - CCK Fishing Manager/Hobie Fishing Team Member

Instagram: @SeaFabCustoms

 

Favorite kayaks: Hobie Adventure Island & Hobie Pro Angler 14

 

Ariel has been fishing the ocean waters and bays of California for the past 20 years off a kayak. He discovered his love for fishing and outdoors at the early age of 5. Ariel travels all over California looking for his next fishing adventures. He loves to fish with new people and is excited to introduce people

into

the sport of kayak fishing. Ariel's favorite species include white seabass, yellowtail, salmon, halibut and white sturgeon. Ariel is a CCK certifies fishing guide and is always ready to take you on your next adventure. 

 

 

 

 

 

 

Jason Tanagon -  Team Member

AKA – Str8FiSHiN to the team.

Jason started fishing as a teenager and primarily fished from the banks of lakes, reservoirs, and the CA Delta. In 2012, he got into kayak fishing and fell in love with ocean fishing. Most of his kayak fishing experience comes from spending a lot of time on the water and learning from some the best. In addition to chasing big fish, he enjoys clamming, crabbing, and hunting using his Hobie kayak.

Bee Xiong - Hobie Team Member

Bee has been a local Sacramento fisherman ever since the early 2000's. From the creeks, ponds, rivers, and lakes, Bee strives to get his personal best on all species. Hearing his reel scream has become an addiction to his regular weekend routine. Like most of the fisherman, Bee started fishing freshwater from the bank. In 2012, he decided to get into the kayak scene to expand his horizon and ever since then he became hooked. In 2015 Bee bought his first Hobie kayak and put his focus more on the salt species. From SoCal to NorCal, Bee has been riding the swells to target salmon, yellowtail, lingcod, rockfish, halibut, and bonitos. As we all know, the more we catch the longer our bucket-list will grow. Follow the CCK Fishing Team to see what Bee will catch next! 

Javier Perez - Team Member

AKA Tails 2 Tales

Fishing for the past eight years primarily in the Bay Area. First fishing vessel purchased was an inflatable pontoon. Fishing freshwater lakes and sloughs for bass & stripers. I eventually moved to SoCal for a few years opening my eyes to a whole new world of sport fishing it was then when I picked up my first Hobie Outback back in 2013 my experience grew as I targeted Bay Bass, Calicos, Bonitas on my free time. After moving back to the Bay Area, I started targeting bigger game fish and knocking away at my bucket list species. Favorite species to target are Lingcod, Halibut, Salmon, and Sturgeon, in the San Francisco Bay. Venturing off to warmer waters I enjoy chasing down pelagic species like Yellowtail, White Sea bass. I own a 2016 Hobie Adventure Island, 2017 Pro Angler 14, 2018 Hobie Camo Outback. My adventure island is my favorite rig with a large platform and giving me the ability to fish further offshore with the stability and comfort.

 

 

Jeff Kerber - Hobie Team Member


YouTube channel: Fishnsea

Geoff's passion for fishing first started at the age of 9 in Sasebo, Japan. Hitching rides from the local commercial fisherman to the neighboring 99 islands to fish while they checked their traps. As time progressed, his skills evolved in different countries, depending on the type of fish and seasons offerings. He has been fishing from Hobie kayaks for over a decade and recognizes the versatile and important role they play in advancing his ability to go after most fish he seeks. Geoff can now be found fishing the inner Bays of Northern California for Fish such as Halibut, Striped bass, or Sturgeon and the Coast for Salmon and a variety of Rockfish. Whether fishing from shore, kayak, or spear fishing, Geoff enjoys taking in the scenery, studying the water column, and embracing the art, patience, and challenge of fishing.